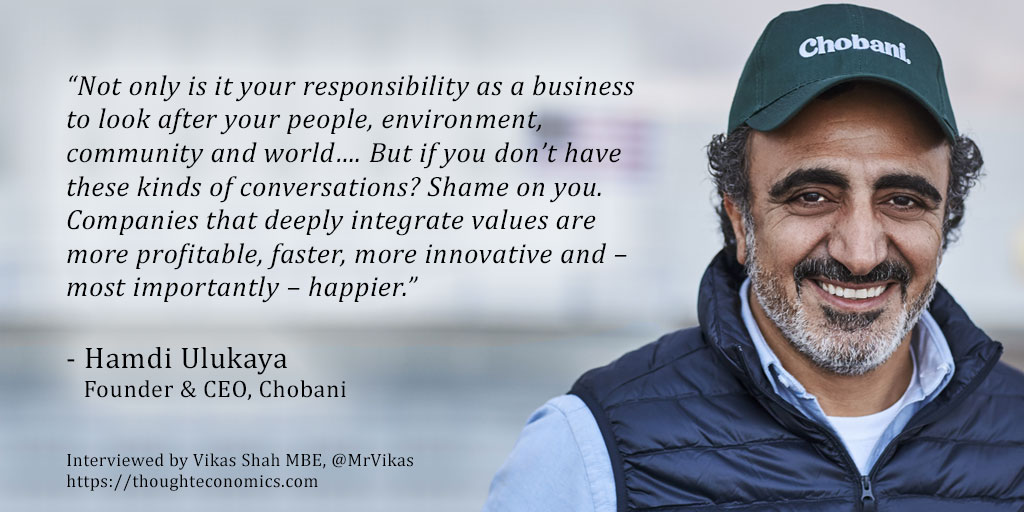 "Today's business book says: business exists to maximize profit for the shareholders. I think that's the dumbest idea I've ever heard in my life." – Hamdi Ulukaya (TED, April 2019)
Hamdi Ulukaya is the founder and CEO of Chobani, one of the fastest growing food companies of the last decade.  The company has annual sales of US$2billion and has become the gold standard for corporate social responsibility.  30% of Chobani's 2,000 employees were born outside the United States, and several hundred are resettled refugees.  From the start, Chobani has donated a portion of profits to charity and has worked to reduce income and wealth inequality.  In 2016, the business launched the Chobani Food Incubator to mentor and support socially responsible food entrepreneurs.
Outside Chobani, Hamdi is a philanthropist and humanitarian.  He founded the Tent Partnership for Refugees to mobilise the private sector to improve the lives of more than 25 million refugees around the world.  He is a signatory to the Giving Pledge and has committed the majority of his personal wealth to this cause.
In this exclusive interview, I spoke with Hamdi Ulukaya to learn more about the role of business in society, what CSR really means, and how we can build more responsible businesses.
Q:  What is the role of business in society?
[Hamdi Ulukaya]: I think the role of business is to lift humanity and push it forward.  I truly believe that; not just because of the innovations and products that businesses create, but because of the communities they impact, the people they interact with, and the environment they exist in.  I grew up thinking businesses just make money for shareholders and everyone else suffers; whether that is their employees, community or the environment.  I grew up hating that idea; and I didn't want to be the thing I hated.  My own experience in the last 10-12 years has been that business is an amazing platform to make the world better, from every aspect.
Q:  How do most businesses reconcile CSR with their 'reality'?
[Hamdi Ulukaya]: Where you have this belief that the sole purpose of business is to make money for shareholders, and that shareholders- once they make their money- can do whatever they want to through their foundations and corporate CSR…. Where you have that belief, things quickly fall apart.  It's very clear that the sole purpose of business is not just to make money for shareholders, but actually to look after their employees, their communities and their society.  Businesses play a role in society, and they have a voice which they have to use.  Silence is not an option.   Businesses have an obligation to make sure their products and services meet the needs of humanity in a way that is not damaging, but healthy.  These are the kinds of practices that you must have in business every single day, every single moment, it's much more important than ticking the box with CSR.
If businesses truly did everything – within the law – to make money for shareholders and nothing else, every single minute; it would mean destruction of capital in the medium to long term, and a company that is less innovative, less profitable, and slower. We need broader perspectives, and an understanding that shareholders are not the only stakeholders.  You have to serve all your stakeholders to ensure they are all lifted. That makes you fast, innovative and profitable and these kinds of values do not go against business, they are intrinsically a part of it.
Q:  How did you build a company with deeply embedded values?
[Hamdi Ulukaya]:  I was 100% outside the business environment when I started out.  I'd never worked anywhere; I'd never known anyone who started a business… I didn't know any CEOs… I had no business 'network'…. I'd never studied business…. I was just an ordinary person who saw being the CEO of a successful business as being something in the far distance.  My feelings towards business were very, very negative; so, I didn't have a preconceived notion of what a business was.  When I started out, I had one thing on my mind; I didn't want to be the person I hated when I was growing-up.
I also had a real passion to bring this factory back to life, to make it sustainable once-again.  It was closed down by a large food manufacturer, and I saw how much the community suffered and how many people were left behind.  This giant company destroyed a community from a distance, and it hit the nerve of everything I hated about the way business was done.  I wanted to bring the factory back, but I didn't want to follow in their footsteps… I wanted to do things better.  I had to find a new way, with a new playbook, in my own environment without the world watching.
It was around 2005 when I started with 4 factory workers in a very old, broken facility, in upstate New York.  It was really hard work.  We had very little money, sometimes we couldn't even pay the electricity or gas bills… I didn't have experience running a business, and apart from the factory workers (who had worked there for 25 years) we didn't have manufacturing experience… I had no network…. And suddenly I was playing in a market with well-known, dominant, multinational companies.  It was the lions and the mouse.  We were small, we had old equipment, we didn't even know if it was going to work out.
What I did have was a connection to the reality of people.  I believed in human qualities, where your handshake meant something, where you could trust your colleague, and they'd have your back… where everyone was in it together with the same spirit.   This community was similar to where I grew up, it was the same feeling; and I wanted to start the journey from that place where everybody felt important, everyone felt at home.
I remember during the first 2 years of success we had, I spent most of my time on the factory floor – not because I wanted to watch over people, but because I wanted to be with them.  We knew we were going to be successful, our products were loved by everyone, there was demand, and we were experiencing all the things we never thought would happen.
There was one time where I brought the whole company together; maybe 200 people at the time.  I told them, '…We've discovered something magical; I can feel it, I can see it… but I'm worried we will lose this because of the highs of our success… I am worried that I might lose it, that I may not stay the course of this standard we have put in place… we need each other, we need to help each other… and I give all of you permission whereby, if I change the way I behave, my beliefs, the way we are going, I give you permission to hit me in my face, you need to bring me back to reality…'
This company is about everybody, not just the people working here, but our farmers, our communities, we're all in this together and we have to feel and believe that.
Q:  What is the role of accountability in your journey?
[Hamdi Ulukaya]:  In the past couple of years, it's been amazing to see how much the conversation around the role of business in society has changed.  People are talking about it, companies are putting this in their adverts, and having conversations about how they have purpose beyond profit.  We are lucky that we started from this place of value; and it's now becoming more important in every industry.  Consumers want to know how their products were made… who made those products… what were their working and emotional conditions like… what those companies are doing to be sustainable… People are making purchasing decisions based on these questions, not just using them as a checkbox exercise.  Also, the generation coming into the workplace now are talented, young, and highly engaged; they don't want to work at a company which does not align with their values.
So, from the people who are buying products and services to the people who are joining those businesses, there is a push for companies to have accountability at all levels.
Q:  What has been the role of philanthropy in your journey?
[Hamdi Ulukaya]:  As I speak to you today, I'm in Mexico.  I had a meeting with the leading businesses, CEOs and entrepreneurs here about the focus of our philanthropy, and the world's refugee crisis.  As we were growing our factory, we initially hired everyone in the local town and village, but then we had to expand our hiring and quickly realised that we were coming into towns where people had legally settled from all over the world, as refugees, and who were having a hard time finding jobs.  To me, that sparked a will to help.  When I reached out to the refugee settlement agencies they said, 'well, they don't speak the language, and that's a problem… they don't have drivers licenses or cars… that's a problem… they don't have the training and skills that businesses need… and that's a problem…' – Just think about it, these are people who have gone through massive journeys, often losing family members along the way… they have experienced destruction and conflict, and now that they are in a safe place, their struggles continue.  These are not complex things; and that's why I love the platform of business.  I said, 'well, let's try something… lets get some cars… lets get some translators… lets set-up some training programs… I want these people to come join us!' Our community work started with 16 languages and 19 nationalities – and slowly, slowly they came and joined us and now work shoulder to shoulder with everyone else in our business.  This was not a statement activity for me to say, 'I am hiring refugees!' It was part of the community work we were doing as a business.  5 or 6 years later, the topic became one of the most spoken about in our political landscape and refugees started to become a scapegoat for our politicians, and I had to do something to show the world that refugees are just like you and me and if anything we should be offering to make sure the journey they have gone through can lead to a better one – it's our responsibility.   I had seen this progress with my own eyes; the people who started working at Chobani… the minute they had a job, the minute they started working, that's when they lost the sense of being a refugee and became part of the community.  That was the moment they started to regain their dignity and became independent.
I went to Geneva and spoke to UN agencies and that was when I realised how big the humanitarian crisis was.  I decided perhaps sharing our experiences of working with refugee communities could inspire other businesses to come forward and join our platform so that we could, together, do better, hire, train and support more refugees perhaps even launching some of them on their own small business and entrepreneurship journeys.  So, I started TENT; a simple act of building a platform and a community, which today has over 100 large, multinational companies working together.  I'm so proud of how businesses are reacting to this – they are opening their doors, their homes, and their hearts to inclusion… Companies have to open their doors to the community around them; in the beginning It may take them a while to catch-up to the challenges around language, training, rules and regulations or any manner of things – but that affects everyone right? You could have the same challenges with any population group, not just refugees – and if you choose to be inclusive, you create a place where everyone can participate.  When you get this right, the results are stunning – the people in our company come from so many different places, and what they've done in terms of our innovation, our energy, our culture, it's beyond priceless.
Q:  How can existing business transform their values?
[Hamdi Ulukaya]:  Not only is it your responsibility as a business to look after your people, environment, community and world…. But if you don't have these kinds of conversations? Shame on you.
Companies that deeply integrate values are more profitable, faster, more innovative and – most importantly – happier.
The platform of business is one of the most amazing ways to change society, but I am telling you this as someone who grew up not liking the platform.
If you look at our political and social landscape, there's never been more of a need for businesses to step up.  There's a need for businesses to shine and transform.  The ones who don't transform will perhaps not even last the next 20 years.  The companies that do right by their employees, communities, environment, consumers and the world will be the ones featuring in the next chapter of our world…
Interview originally conducted by Vikas Shah, for British Airways.
View Interviewee Biography
Hamdi Ulukaya is founder and CEO of Chobani, one of the fastest growing food companies in the last decade and a pioneer for the natural food movement.
Raised in a dairy-farming family in a small village in eastern Turkey, Ulukaya launched Chobani in 2007 with the mission of making better food more accessible. In less than five years, Chobani became the No. 1–selling Greek Yogurt brand in the U.S. with more than a billion dollars in annual sales. Chobani has been named to Fortune's 'Change the World' list of companies, was honored with a Salute to Greatness Award by The Martin Luther King Jr. Center for Nonviolent Social Change and named one of the 'Best Places to Work for LGBTQ Equality' by the Human Rights Campaign.
Ulukaya has always made helping people and having a positive impact on communities a priority for Chobani. From the beginning, the company has donated a portion of its profits to charitable causes, many of them in Idaho and New York where its products are made.  A champion of reducing income and wealth inequality nationwide, Ulukaya advocated in support of a proposal to increase the minimum wage in New York that ultimately became law. In addition, Ulukaya implemented a groundbreaking profit-sharing program for the company's 2,000 employees. He also took the rare step in manufacturing of instituting a six week, fully paid parental leave program for all of the company's mothers and fathers.
In 2016, Ulukaya launched the Chobani Food Incubator to mentor and support socially responsible food entrepreneurs and further deliver on the company's mission to provide better food for more people.
A devoted humanitarian, Ulukaya founded the Tent Partnership for Refugees to mobilize the private sector to improve the lives and livelihoods of the more than 25 million refugees around the globe. He also signed the Giving Pledge and committed the majority of his personal wealth to the cause.  For these efforts, he was named an Eminent Advocate by the United Nations Refugee Agency (UNHCR) and received the United Nations Foundation Global Leadership Award, among other recognitions. Ulukaya is also an Oslo Business for Peace Award recipient, a Global Citizen Prize winner and was named one of TIME's 100 Most Influential People in the World for his work on the refugee crisis and his innovative approach to business.
Ulukaya sits on the board of the Pathfinder Village and is a member of the B Team, a collective of global leaders working to inspire dialogue and business action for a fairer, greener and more human economy.  A big fan of independent films and the Turkish soccer team Fenerbahce, Ulukaya lives in New Berlin, N.Y.